Sunday Funday: The Ride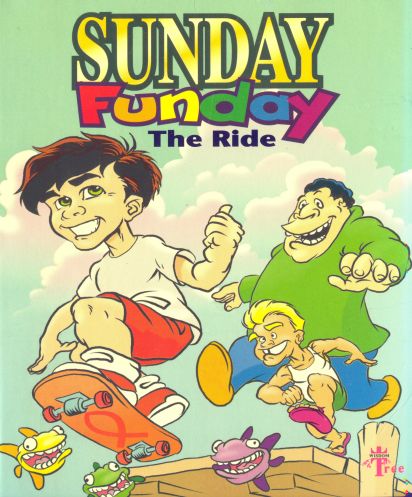 Sunday Funday is packed full of excitement. The road begins as soon as you select your game. Which will you choose?
Ride through a myriad of obstacles on your skateboard in Sunday Funday.
Test your agility in Fish Fall.
Make your singing debut with "Ride of Life" by 4HIM.
It's Sunday morning, time to go to Sunday School! So hop on your skateboard and hurry to church. But beware, along the way are many people who will try to distract you from your route. None of the things they have to offer should stop you if you can stay focused on your goal. There are some special objects along the way that can either help you or harm you. So grab your skateboard and hurry to church!
Fish Fall is a fast action, flying fish game. Your job is to catch the fist before they fall and send them back up into the basket. Each level is more difficult than the previous one, and the quota of fish to save and the time to do it vary.
Sing along with 4HIM. Here is your chance to sing lead vocals to "The Ride of Life" by Dove Award winning group of the year in Karaoke style!
History:
Color Dreams
was an original NES game developer in the late 1980's and early 1990's who did not license their games through Nintendo. The company neared death once toy stores refused to sell their titles due to threats from Nintendo to cut the toy stores off as Nintendo retailers if they sold unlicensed NES games. Color Dreams cleverly bypassed the mainstream video game distribution streams by selling through Christian bookstores after modifying their games giving them Biblical themes under the new brand of
Wisdom Tree Inc.
The game Color Dreams game
Menace Beach
was redesigned into
Sunday Funday
with Wisdom Tree branding and released in 1995. The NES was also discontinued by Nintendo this same year, as a result, sales of the original Sunday Funday game were low making it a rare collectable video game. The Wisdom Tree company was
purchased
by Brenda Huff in 1997 who was the Wisdom Tree sales supervisor at the time and currently holds all rights to Wisdom Tree games http://www.wisdomtreegames.com/ wisdomtreegames.com )).
Christian NES games have RISEN!!!
While 20 years is quite a bit more than 3 days, and Christmas is upon us vice Easter, we decided this was as good of time as ever to bring resurrect this game. We've obtained permission from Wisdom Tree Inc. to publish their once again. Truth be told this republishing of Sunday Funday is a bit of an experiment for us here at Infinite NES Lives. Depending on sales and community response to this Limited Edition, we may continue to publish Sunday Funday in a Regular Edition. Additionally, based on this experiment we will move forward with our plans to publish other Wisdom Tree titles and perhaps a multicart including most/all Wisdom Tree titles in one. Pie in the Sky: if Wisdom Tree titles go well, we might be able to use it as proving grounds to other big name licensed title reprints in the future.
How to differentiate compared from original 1995 published copies:
Modified title screen in game including words, "PRODUCED BY INFINITENESLIVES LICENSED BY WISDOM TREE"
Our new black plastic dust sleeves instead of the blue cardboard Wisdom Tree sleeve.
5-screw NES case design with rectangular label instead of Color Dreams case design with square label.
Box, manual, and cartridge labels include INL branding.
Manual has color front and back cover with B&W internal pages compared to the original manual that was entirely B&W.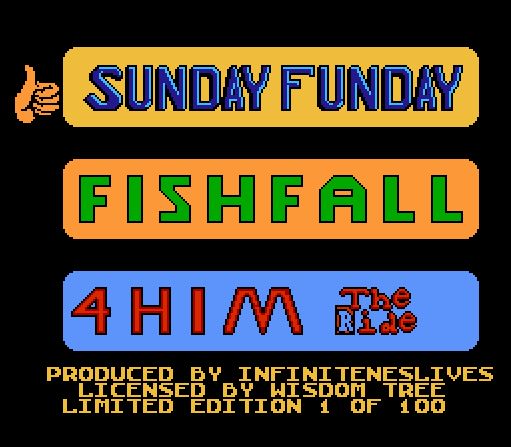 Limited Edition vs. Regular Edition:
We haven't fully decided if we're going to produce a Regular Edition of the individual title Sunday Funday, in the event we do, these will be the differences:
Limited Edition will only include 100 numbered copies.
Limited Edition comes in a black cartridge where the Regular Edition will use grey cases.
Limited Edition is digitally numbered in the title screen "LIMITED EDITION 1 of 100" where Regular Edition will NOT be numbered.
Limited Edition circuit board is marked with it's numbering.
Limited Edition only available in CIB (Complete in box), where Regular edition will have CIB and Loose Cart options.
About the game cartridge:
Cartridge made with all new parts using our INL-ROM boards and cases.
All copies equipped with a multi-region CIC by Jim's Cool "JCIC".

region switchable by pressing reset on your console, saving last known good region.
$45 LIMITED EDITION COMPLETE IN BOX purchase includes: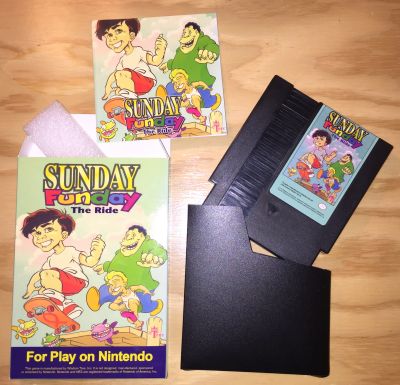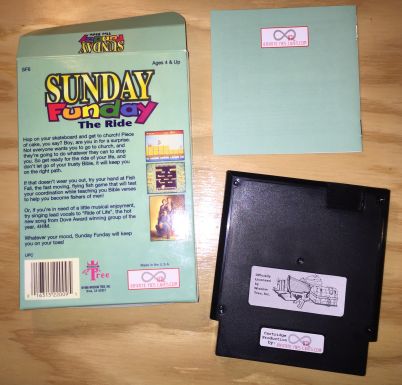 Black Limited edition cartridge fully labeled front and back.
Digitally numbered title screen of 100 total copies.
12 page manual with full color cover and B&W internal pages.
Traditional cardboard box with cardboard box with extra high gloss protective finish.
Black plastic Dust Sleeve.
Styrofoam block.
Purchase optional clear plastic box protector for $1 extra: