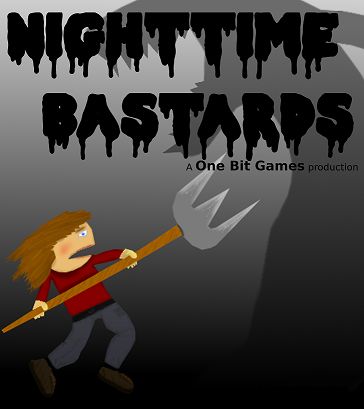 This is a homebrew original video game designed and created by
One Bit Games
for the NES.
Become a true Hero and fight for the presence of light in the nightmare world of Wakenes. Equip yourself with what you can find scattered across the intriguing world to maintain light that repels the evil bastards. Fueled by the shadows of their caves, the Bastards will demolish you instantly if you find yourself in the grim darkness. Their darkness.
In this action driven adventure game, Your heroic mission is to bring light to the nine vulnerable parts of Wakenes. This is a real test of courage and skills. Should You somehow succeed, You still need to defeat the materialized essence of horror himself, before completing your task.
In Nighttime Bastards you will experience:
Nine intriguing Levels plus a challenging epic Boss Battle.
Three Weapons and essential items.
One Hero and hordes after hordes of enemies.
Good Luck!
Please visit the creator's website
One Bit Games
for their contact info and other work.
Cartridge made with all new parts using our INL-ROM boards and cases.
All copies equipped with a multi-region CIC by Jim's Cool "JCIC".

region switchable by pressing reset on your console, saving last known good region.
$35 LOOSE CART purchase includes: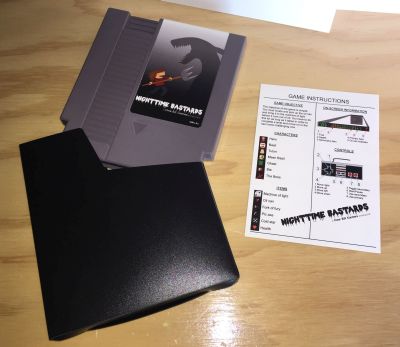 Grey regular edition cartridge fully labeled front and back
Black plastic dust sleeve
Single page instruction card in full color
$47 COMPLETE IN BOX purchase includes: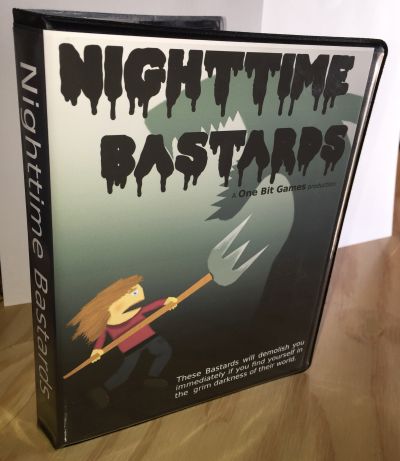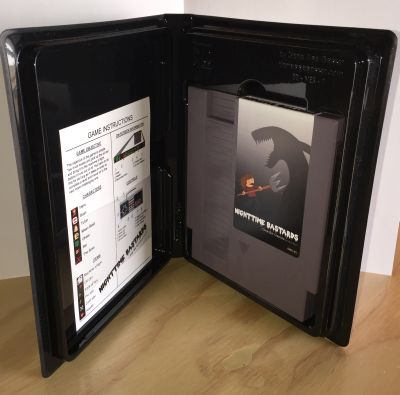 Grey regular edition cartridge fully labeled front and back
Single page instruction card in full color
Bitbox case with high resolution full color cover insert

Beautiful, functional, and durable protection for storing and displaying your game.

Dust Sleeve NOT INCLUDED with CIB, can be purchased separately here