Kazzo cartridge "INL Retro" Dumper-Programmer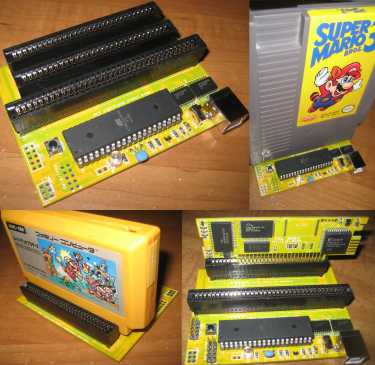 This is device used for dumping your original cartridges to digital form and flashing cartridges via USB. The original design is by
naruko
, this is an adapted ' fully kazzo compatible' version that has only added capabilities. This device is 'backwards compatible' with the original Kazzo and maintains the same features.
Original Kazzo Features:
Firmware uses V-USB's standard licence.
Firmware uses V-USB's shared Vender ID and Device ID.
libusb-Win32 is used for kazzo's Windows driver.
Known/tested compatibility with Windows XP, Vista, and 7 currently.
Command line and GUI software interfaces ( DISCLAIMER ).
SNES CONNECTORS ARE NOT FOR DUMPING SNES GAMES. They're designed to program our SNES flash reproduction boards.
Improvments and Expanded Capabilities:
Both 72 pin NES and 60 pin Famicom (FC) cartridge connectors for dumping original carts, and flashing development carts.
SNES connector specifically designed for flashing our INL SNES Hi/LoROM cartridges ONLY.

THERE IS CURRENTLY NO SOFTWARE/FIRMWARE SUPPORT FOR DUMPING SNES CARTS.

While it may be possible to dump original SNES cartridges in the future, the narrow width of the connector pins and differing pitch makes this difficult, and not guaranteed to work at any point.
Our flash carts have been designed with widened connector pins to allow them to be compatible with this device and the SNES with their slightly differing pitch.

Access to NES EXP bus pins several of these pins are designated for use with our NES INL-ROM flash boards.
Bootloader- switch allows for updating device firmware and reverting to use original kazzo firmware and software if desired via USB and BootloadHID
LED indicator light
New software and firmware that we've written and actively maintain. This is currently under alpha release. Current support targets use with our NES and SNES flash boards, with planned support for dumping roms and saves etc.
Links/Downloads:
Purchase Options:
Minimum of one connector of your choosing: NES (72pin), Famicom/FC (60pin), and SNES for $20.
Each additional connector is $5, all connectors can be included for a total of $30.
Device is FULLY assembled and tested.
USB cable not included currently, recommend cables up to 4ft in length. Device has been tested and works with 10ft cables though.
Current sales are loaded with original kazzo firmware, user can update firmware via USB bootloader as desired.