Action 53 Function 16 Volume ONE "Streemerz Bundle"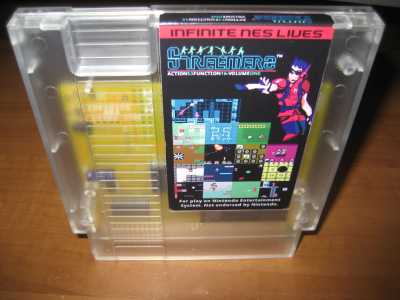 This is a NES multi-cartridge of homebrew games featuring recent hits and several
2011 NA/nesdev compo
entries.
Open source:
The cartridge is equipped with a multi-region CIC by Jim's Cool "JCIC".

U.S./Canadan sales will be forced NTSC region.
International sales will be region switchable by pressing reset on your console, saving last known good region.

Total sales are limited to 100 cartridges for this production run

These copies are NOT numbered.
Case will be standard 'Nintendo' GREY in color (unlike picture)
See the nesdev forum thread for updates.
This is a loose cartridge ONLY as pictured but
GREY instead of clear.
Profits will be put forward to other community approved projects including immediate payment of prizes for next competition, future Action53 releases, or other items to support the homebrew community as a whole. Thanks for your SUPPORT!!! This batch was limited to 100 copies, there may very well be another batch or long term release but that's yet to be decided.
If paypal is allowing you to complete the transaction then we have a cart on the shelf waiting to be shipped your way. Once the 100 copies of this batch are gone, paypal will prevent further sales.
Contributor's list:
Faux Game Co.
Joshua Hoffman
Shiru
PinWizz
Michael Swanson
Damian Yerrick
David Eriksson
Stefan Adolfsson
Tom Livak
Nioreh
Joe Parsell
Mathew Brenaman
Sly Dog Studios
Yggi
Chris Covell
Paul Molloy
Jim's Cool CIC
WhatULive4
Mr. Podunkian