Armed for Battle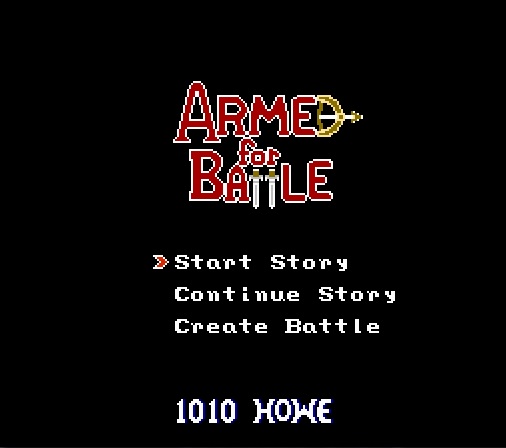 This is a brand new homebrew release for the NES by 1010 HOWE. It took nearly 30 years, but real time strategy has now graced the NES with it's presence.
Armed for Battle is a unique, real time strategy (RTS) game. The game allows you to build up your own kingdom, seek out enemies in the surrounding land, and send out battle parties to invade, all while fending off incoming attacks.
Download and play the demo!!!
20 Levels of Story Mode gameplay.
Create your own battles.

Set up your own game against up to 3 enemies and 5 levels of difficulty.

You will face fierce enemy troops, fire-breathing dragons, and devastating giants.
Check out the quick start guide.
Please visit the creator's blog
1010 HOWE
for more details about the game, developer, and their future work.
Cartridge made with all new parts using our INL-ROM boards and cases.
All copies equipped with a multi-region CIC by Jim's Cool "JCIC".

region switchable by pressing reset on your console, saving last known good region.

Some minor infrequent software bugs are known to exist.
$40 LOOSE CART purchase includes: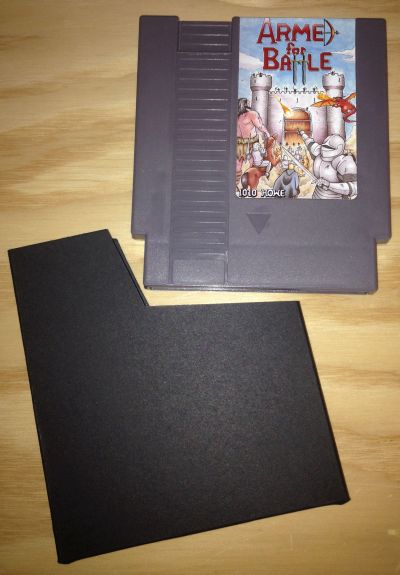 Grey regular edition cartridge fully labeled
Cardstock dust sleeve
Electronic copy of manual available here.
$52 COMPLETE IN BOX purchase includes: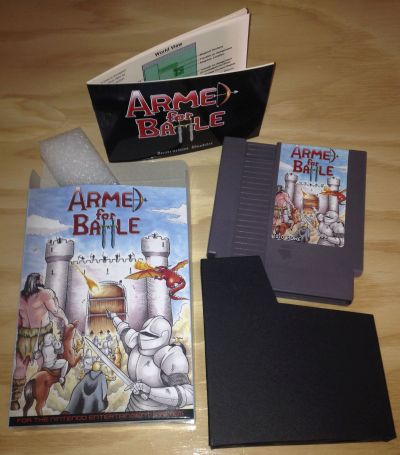 Grey regular edition cartridge fully labeled
Cardstock dust sleeve
24 page full color manual, highest page count of any homebrew release to date.
Traditional cardboard box with extra high gloss protective finish.
Styrofoam block.
LIMITED EDITION vs. REGULAR EDITION
There were 40 LIMITED EDITION copies with blue cases. Most copies have already been auctioned off, but a few copies were retained for a future auction. We suggest that you sign up for 1010 Howe's mailing list if you'd like to be informed of when the remaining copies get auctioned off. We (InfiniteNesLives) don't have them nor do we control them.
The copies being sold on this page are for the REGULAR EDITION long term release and come with grey cases.
Limited edition included 2 extra bonus levels and cheat options not present in this regular edition release.
Limited edition copies included extra goodies such as a battle scene photo, character fridge magnets, and CD with early source code.